Input from local residents and environmental groups has been essential as the Saskatoon Freeway functional study design team developed a new concept for crossing the Northeast Swale that reduces environmental impact. This new concept – along with two alternative roadway routes for crossing the Northeast Swale – will be available for citizen and stakeholder feedback at an online public consultation slated for early 2021.
Look for details in an upcoming blog on how you can participate.
During environmental focus groups in the summer of 2020, the design team met with local citizens and organizations to better understand key environmental factors that needed to be considered in roadway concepts for Phase 2 of the Saskatoon Freeway.
To learn more about the focus groups, read our previous blog.
Our design team used that citizen input in a workshop with representatives from Meewasin Valley Authority, the Saskatoon Nature Society, the City of Saskatoon, and landowners and residents in August 2020 that focused on roadway routing options through the Northeast and Small Swales. The new roadway concept for crossing the Northeast Swale which emerged from the workshop is shown below.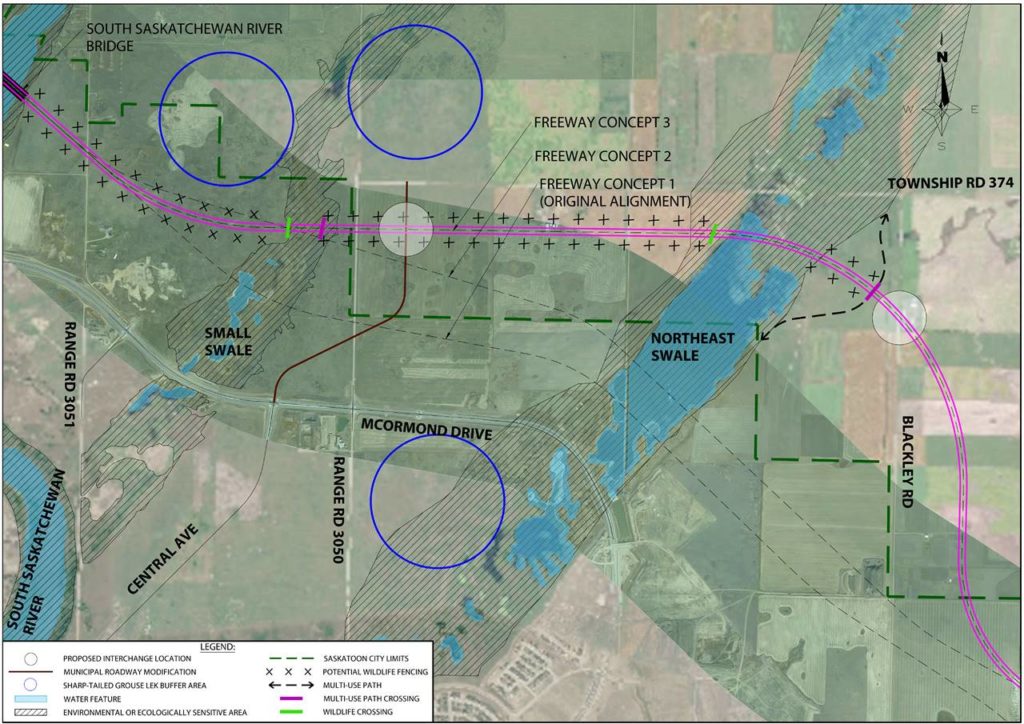 ---
This new concept minimizes the length of the open water crossing and is situated in a previously disturbed area, which helps preserve more of the Northeast Swale's natural habitat. To protect wildlife and allow for their continued movement, dedicated wildlife crossings and fences are planned.
To learn more about the studies done by the functional study design team in the Northeast Swales, read our previous blog.
To come up with this roadway concept, the design team has altered the freeway's route, so it is slightly outside the 500-metre corridor completed in 2005. Because this area has not been extensively studied, we'll do additional work in 2021 to identify potential habitat that may need to be protected.