Phase 2 is the longest segment in the Saskatoon Freeway functional study, at roughly 27 km. It runs from Highway 11 near Grasswood and crosses Highway 16 East, Highway 5 and Highway 41. It continues across the South Saskatchewan River to the area south of Wanuskewin Heritage Park. It includes two high-speed connection points – Highway 11 near Grasswoods and Highway 16 East.
Phase 2 will directly benefit people living in urban residential, country residential, and farm properties adjacent to the freeway route. Because there are more landowners in the study area compared to Phase 1, we will need additional time to meet with all interested people and answer their questions.
Unlike Phase 1, no realignments of existing highways are anticipated. However, the study team will face a challenge where Highway 16 meets the proposed freeway, as the new interchange will have to account for an existing highway and a railway.
Phase 2 must consider the impact on a number of streets on the east side of Saskatoon, and how users of those roads will access the freeway. The design work will consider access to and from McOrmond Road/Central Avenue, Blakeley Road and 8th Street.
This phase includes planning for how the freeway will cross the South Saskatchewan River. While work on the location started in Phase 1, final design decisions will be made during Phase 2.
Phase 2 will determine how the freeway crosses the Swales on the northeast side of Saskatoon in the most ecologically sensitive way. A variety of measures will be considered to avoid, reduce or minimize the freeway's impact on the Swale. We will ask for their feedback on a range of sustainable options through our public engagement efforts later in the year.
---
Phase 2 preferred route revealed
Over the summer, the design team considered feedback from the spring 2021 online information session while preparing a preferred route. They evaluated factors such as cost, economic benefits, social and environmental impacts, and driver travel characteristics.  
You can see an overview of the preferred concept for Phase 2 below.
Phase-2-Preferred-Concept_211001_low-res-compressed

Later this fall, we'll host a second online public consultation to share more information on this phase.  Subscribe to our newsletter for details on how you can participate.
---
Phase 2 online public consultation – Feb-March 2021
Below you'll find an archived version of the public online consultation that was held from February 16, 2021 to March 2, 2021. This website is now closed and is no longer accepting comments or feedback on roadway and interchange concepts, but it is possible to still review information presented during the two-week consultation period that focused on the southeastern and eastern portions of the Saskatoon Freeway.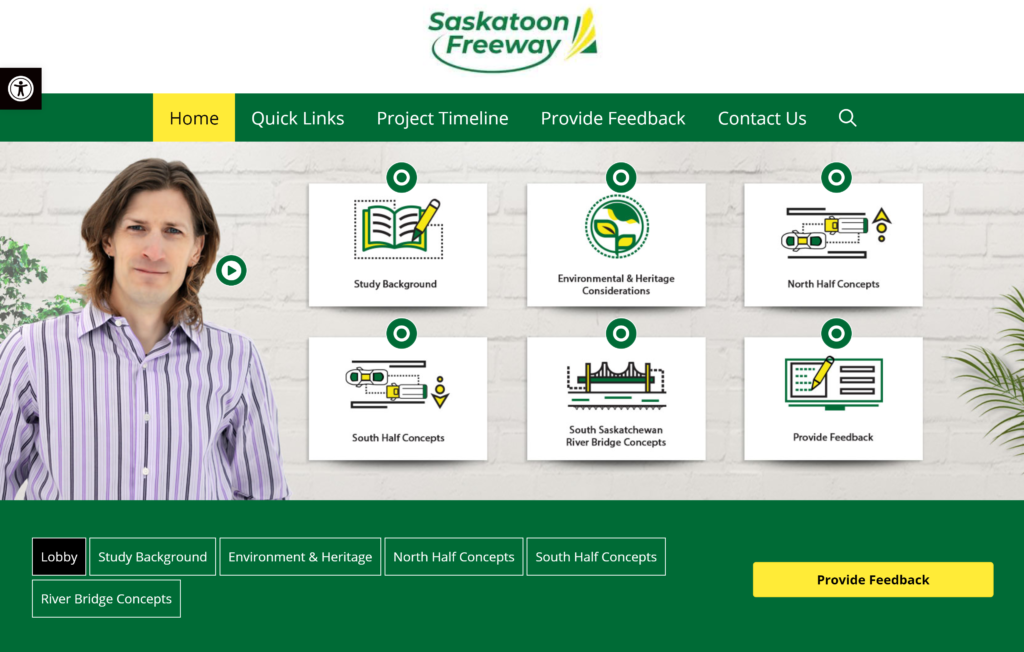 This initial public online consultation for Phase 2 of the Saskatoon Freeway is closed and we are no longer accepting comments or feedback on roadway and interchange concepts.The final preferred concepts for Phase 2 of the Saskatoon Freeway will be presented at a second public online consultation before summer 2021.
Sign up here for project updates to ensure you are notified. 
---
Focus Groups on Environmental Considerations July 2020
On July 20 and 21, the Project Team held three focus groups with the public to share information about Phase 2 and the environmental research being conducted within the scope of the functional planning study as well as to gather input and feedback on environmental concerns and possible mitigations. Following are the notes from the focus group sessions.
Public-Focus-Group-1-Summary-Notes

Environmental-Organization-Focus-Group-Summary-Notes

Public-Focus-Group-2-Summary-Notes