An online public consultation focusing on Phase 2 of the Saskatoon Freeway Functional Planning Study will run from February 16 to March 2, 2021.
Click on this link to take part in our public online consultation. [Now closed]
When built, the Saskatoon Freeway is expected to be a 55-kilometre divided highway, with a minimum of four lanes, that begins at Highway 11 south of Saskatoon and connects with Highway 7 west of the city. Construction is not anticipated for at least 15 years.
Phase 2 of the Functional Planning Study is highlighted in green on the map below.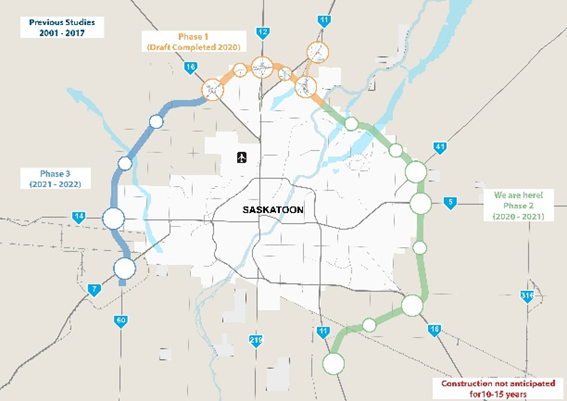 The public online consultation session will include five focus areas:
Study background: Learn more about the functional planning study, what is considered and previous work that's been done.
Environmental and heritage considerations: Discover how environmental and heritage considerations will be managed, especially where the freeway will cross the sensitive swales area.
North half concepts: Learn about interchange and road concepts for the northern section of Phase 2, between Highway 5 and the South Saskatchewan River.
South half concepts: Learn about interchange and road concepts developed for the southern section of Phase 2, between Highway 11 South and 8th Street.
River bridge concepts: See concepts for a bridge that will cross the South Saskatchewan River.
Visitors to the public online consultation will have opportunities to comment by completing surveys and ask questions of project experts using our LiveChat feature. Your feedback will be used to help us prepare a preferred route and interchange configurations. We'll share that later and ask you for additional feedback.
When all three phases of the functional study are complete, the land needed for the freeway will be identified and protected. Some existing temporary restrictions will be lifted. Residents and businesses along the freeway corridor will get a better understanding of where and how they may be impacted.